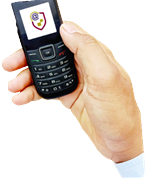 E-mail serves as a means of communication that is difficult to manage without.
A study conducted among smartphone holders for non-recreational purposes, found that 75 percent of the reason for holding the device is for receiving and sending messages.
Anyone who does not have a smartphone often encounters situations where he needs access to email and has no way to access it.
Virtual-Mail from I-CALL was established to provide a solution to the problem and give access to the email box without the need for a smartphone or computer, by advanced and revolutionary technology based on a simple phone call.
Virtual Email can be used as an email on its own, sending and receiving emails from a unique address issued by the system for each user. In addition, someone who already has a personal mailbox (of gmail and the like) can connect his box to the system and send to receive emails from the personal email.
Years of hard work have been invested in the system and we hope you find it useful.
Clarification
: The system is intended for serious use and not for recreation.
To start the registration and connect your email box to the system, send a blank email to 22@email36.com, and after a few moments a return email will be received. Follow the instructions.
To download the explanation booklet, click here.